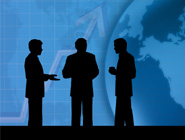 Global Web Seller is an ideal choice whether you are a software or web development company looking for a long term outsourcing partner or you are a company looking for an outsourcing firm to work with you to achieve your goals. During the last few years India has emerged as the leading destination of software outsourcing due to the quite obvious reasons.
Due to English speaking highly skilled manpower it has the potential of meeting all the demands of outsourcing needs of software development companies and direct clients. Here any big or small firm can find with any outsourcing need can find a small, medium or big firm matching their expectations. Contrary to popular perceptions, the major advantage of outsourcing is not just low cost of development but most of the companies outsourcing their projects benefit from the domain specific expertise available on demand.
Long term outsourcing partnerships have helped companies concentrate on their core competencies, minimize their time to market of products with lower development cost making them more competitive. More and more Fortune 500 companies are outsourcing software development to India. A strong supply of high-class programming talent, favorable government and tax incentives, and the ability to work efficiently with international time zones are some of the reasons why India is an attractive destination for offshore software development. By outsourcing their software development needs, companies can focus more on their core competencies and rely on service providers to manage critical, non-core processes for them.
Outsource your web and software development to India and get access to some of the best expertise and talent. Indian developers help you make informed decisions that will solidify your business or presence on the web and allow your web venture to expand and grow.
By focusing on your web site and your customer they aim to make your experience a positive one. Offshore outsourcing offshore outsourcing to India is one of the most popular management practices today. Though it is generally spurred by the cost reduction factor, this is just one of the reasons one should consider offshore outsourcing. Most parties who outsource are unaware that Indian Service Providers do not just offer cost effective solutions, but also value addition by improving productivity and quality.
Advantages of outsourcing to India? India - large pool of engineering resources 12 hr time difference - Savings in time and money - Cost benefits Quality awareness and processes Government support - infrastructure availability Significant cost savings, up to 80% in certain cases. While it can be quite difficult to recruit the expected competence in Western countries, it is a completely different scenario in India, where there are lots of available programmers with a good academic background.